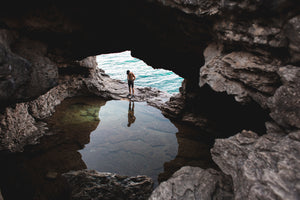 OUR JOURNEY
Tidal Pool Brooklyn is a small, handmade jewelry company with an emphasis on structured minimalist pieces. The company was created by yours truly, Pam Pollis. The idea of designing jewelry was based on a dream I had about three years ago...
Keep reading
Our jewelry is assembled from what is collected or washed up in our "tidal pool." All materials are hand sourced. We love unexpected juxtaposition of materials with a vintage vibe.
Locations
Shop with us in the NYC area. Visit our stockists page for more info on our stores and pop up locations.
Also, join our newsletter for real time pop up location updates!
Many of our components are vintage and as such, we often have a limited supply, so the majority of our pieces are small batch or sometimes one of a kind (just like you!). We thank you for visiting TPB, shopping small and handmade and supporting the little guy!
Photos by Yanina May Photography & clothing by Indigo Apparel.